Select 'New Item' or 'New Assembly' from the menu and ensure that the Type option is set to 'ASSY'. (see picture below)

You should add at least a Part Number and a Description. Everything else is optional. You can always comes back to edit/add more detail later.
There is a second type of assembly named CSAS (Closed Sub ASsembly) At this stage just ignore that type - we'll explain it in more detail in the 'Assembly Types' section of this user guide.
You might wish to arrange your inventory in categories - it might help you find items later. Place the item into a category that already exists by selecting from the drop down category list or create a new category by keying in the name driectly into the category box.
When you're done click the 'Save' button.
Now that you have an assembly you can use Parts List Editor to create the parts list (BOM)
Select Assemblies/All Assemblies from the menu. This brings up a list of all your assemblies. To the left of each row is a small [>] button. Click that and select the option to Edit Parts List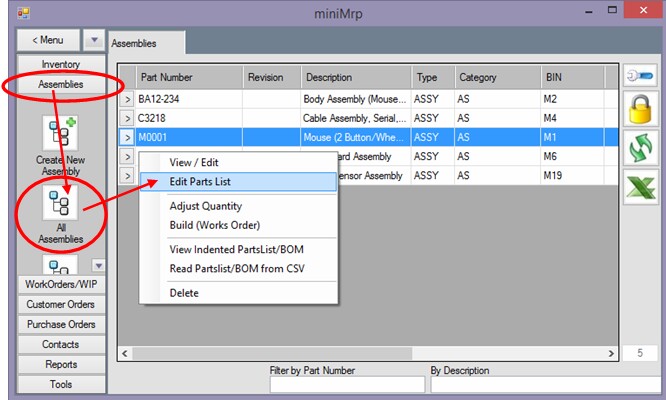 The parts list editor appears - shown on following page.
Parts List Editor