The enterprise edition of minimrp can continue to use the standard 'MS JET' database. In that case upgrading to Enterprise edition of miniMrp is simply a case of backing up using the standard version, Installing the enterprise version and then using the enterprise version to restore from the backup. You can then ignore the rest of this page
---

The rest of this pages discusses the migration to MS SQL Server.
During the installation of miniMrp Enterprise Edition you would have seen a window like this:-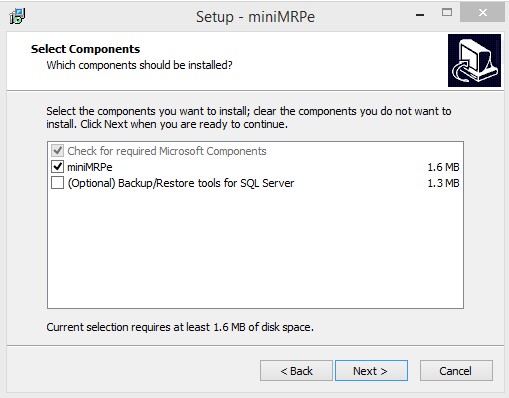 miniMRPe. This is the miniMrp program. Install this on every computer where you will use miniMrp.

Optional backup/Restore tools. You only need to install these tools if you intend to migrate up to MS SQL Server. Without these tools miniMrp can still back up and restore its own non-sql database. If you do intend migrating to SQL Server then these tools should only be installed on the machine where your instance of MS SQL Server is running.
Ignoring the optional Backup/Restore tools for SQL Server - each installation of miniMrp includes its own Backup button in its tools menu. Before migrating to SQL Server the first thing to do is to make a backup of your current database using the backup button in the Tools menu of the miniMrp program.
Note: If you have never used miniMrp then you do not need to make a backup before continuing below. A backup is only required if you have data that you wish to migrate - The optional sql restore tool can create a new empty database on your instance of SQL Server or restore non-sql database into sql server.
When you have installed the optional backup/restore tools on your server you will find the sqlDbTools startup icon in the program folder at:
c: \ program files(x86) \ miniMrp E \ Tools